In this example while Forgot Password request was submitted, EUM displayed an error pointing to the Database.

To solve this error one would need to have access to the EUM's database. This could be a wrong entry in the DBVersion table.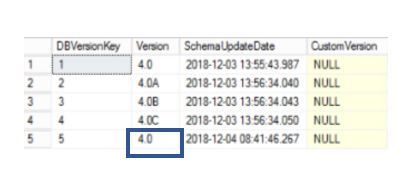 In this example, for some reason, the last row shows an older version than the previous row. Deleting the last row would solve the problem.
In some other example we might see the SchemaUpdateDate for the last row has same value as the row before. Changing the value of SchemaUpdateDate for the last row to a more recent date/time should solve the problem.