You will have received a license from an Envision IT representative whether it be the first time you're applying your recently purchased license or a renewed license.
The license is a .txt file and has the following naming convention: Extranet_User_Manager_Customer_Name_#. Please rename this file to EIT.EUM.License.txt.
If your EUM instance is installed on a VM, please continue following the steps below. If your EUM instance is installed as an App Service in Azure, please skip to step number 8.
Running EUM on a VM
Login to the Server EUM is currently installed on and go to the source files of the EUM install typically in C:\inetpub\wwwroot.
Progress through your EUM site folder into the LandingAdmin bin folder at C:\inetpub\wwwroot\CustomerEUM\LandingAdmin\bin
Replace the existing EIT.EUM.License file with the new license file you renamed above.
Progress to https://youreumurl.com/idsrv to validate the license was applied successfully (ie. you do not receive an expired license error).
Running EUM as an App Service in Azure
Progress to https://portal.azure.com and login with credentials to the Azure subscription that is hosting EUM as an App Service. Open up the EUM app service settings and launch the Kudos Advanced Tools editor.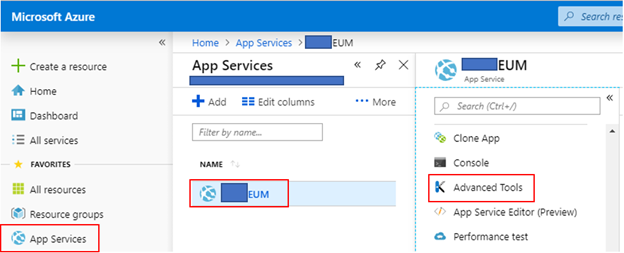 Once in the Kudos editor, open the CMD window.

In the file explorer, click site/wwwroot/LandingAdmin/bin. Click and drag the newly renamed EIT.EUM.License from above into your browser window and replace the existing EIT.EUM.License.
To validate your license has been applied correctly, click the download button beside the EIT.EUM.License.txt file and validate the new file was applied.

Restart the App Service and progress to https://youreumurl.com/idsrv to validate the license was applied successfully (ie. you do not receive an expired license error)