Group Owners can import users as long as "Who Is Allowed To Import Users" is set to "All" in System Settings of Landing Admin. This can be done by Configuration Editors only
To Import Users the Group Owner has to login to Landing Admin and click Import Users tile. That will take the user to the Import Users page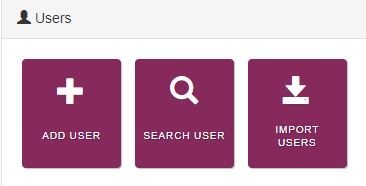 Download the Import Template by clicking Import Template in the Import Users page

In the Import Template, the following columns need to be filled in as a bare minimum: UserStatus_FK, FirstName, LastName, Email, RegisterRoles.
*Warning if the fields above are not filled in the template, then Import Users will fail*

 The value for UserStatus_FK can be obtained by clicking the Status Codes button
The value for RegisterRoles would be the GroupKey for the Group to which the user is being imported. If multiple groups, then multiple GroupKey values can be put, comma separated.
Please refer to article "How to find Group Key" for the GroupKey value.
Save the changes and close the file (make sure that it remains a .csv file)
Click Browse in the Import Users page and browse for the file just saved. Then click Load Import File. The users would be imported and a success message would be displayed to confirm that.

*Warning if users being imported are previously existing in the EUM database, and their status is not Deactivated or Pending Approval, then Import Users will fail*