If the url for EUM needs to be changed for some reason, then that can be done in a few places listed below. In these places the old url is to be searched and replaced by the new one:
In the wwwroot
Extranet_API_V4\web.config

IdentityServer\IdentityServer.exe.config

Landing\appsettings.json

LandingAdmin\web.config

Trust\RegisterIdentityServerIP.ps1

EIT_O365_API\appsettings.json
In database
SystemConfiguration table

ClientRedirectUris table

ClientPostLogoutRedirectUris table
In App Services
If EUM is installed as Azure App Service, then the changes need to be done in Configuration page/Application Settings tab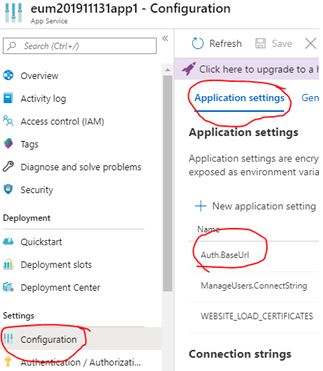 In EUM Landing Admin - Email Configuration
Login to EUM Landing Admin as a Edit Configuration User and navigate to the Email Configuration page. Check if any of the Email templates is using the old url. If found, replace with the new one.
Select the Email Type
Click [Source] to go to the Source view
Lookout if the template has the old url
If old url is present, replace it with the new one
Click [Source] again to come back to normal view
Click [Update] to save the changes in the template
In Azure Active Directory
If EUM is wired up to Azure Active Directory to create B2B users and allow users to login using B2B:
EUM_GraphAPI app
Navigate to Azure Active Directory and login with admin credentials
In the left navigation select "App registrations"
Click "EUM_GraphAPI" app
Once the app page loads click the Redirect URIs
Change the url in the Redirect URIs form to have the new EUM uri: https://<new EUM host url>/idsrv
Click Save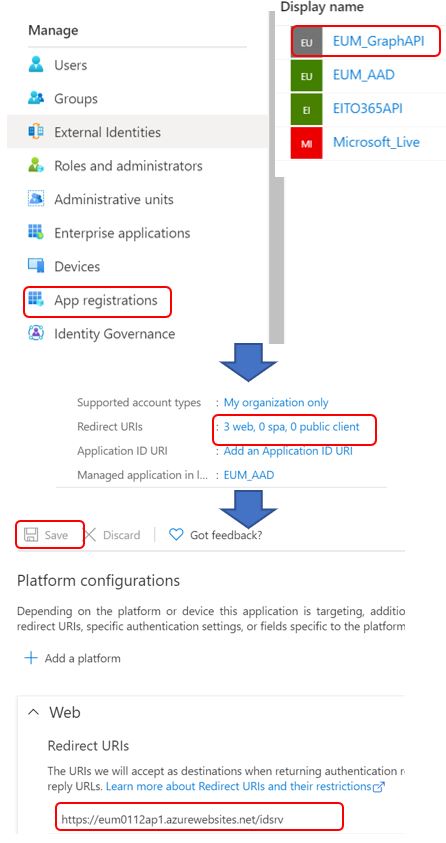 EUM_AAD app
Navigate to Azure Active Directory and login with admin credentials
In the left navigation select "App registrations"
Click "EUM_AAD" app
Once the app page loads click the Redirect URIs
Change the url in the Redirect URIs form to have the new EUM uri: https://<new EUM host url>/idsrv/signin-aad
Click Save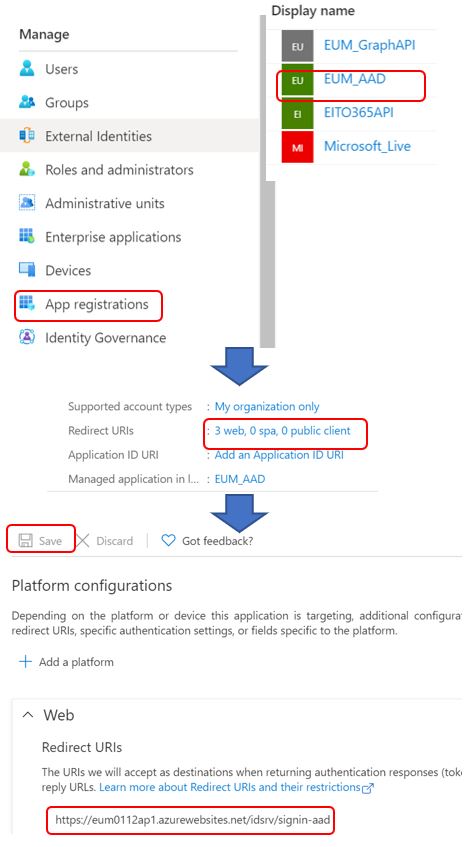 Related Article: Change URL in EUM V5 – ExtranetUserManager