Upon clicking "Reports" in the left hand menu of EUM Admin, does it display an Access Denied message? You might need to reach us to set up the Power BI Report for you.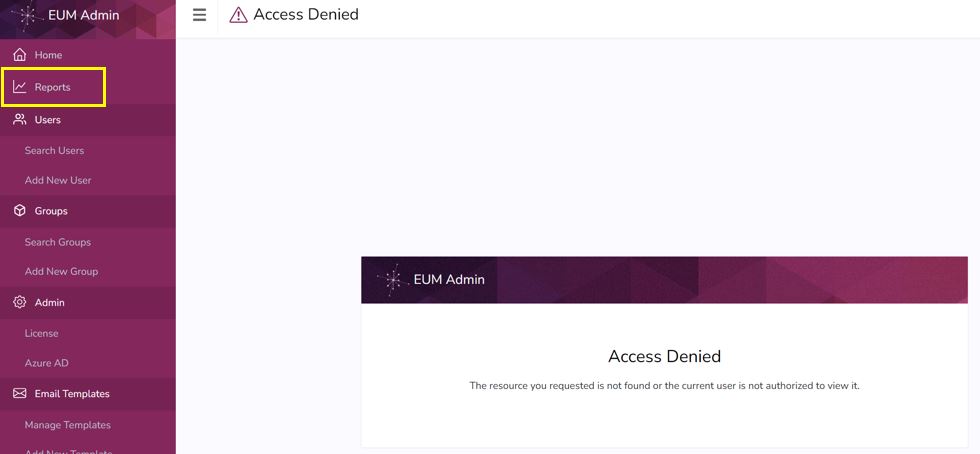 The EUM Admin Power BI Report can give you a handful of important information like
Number of Groups and Users tied to EUM
User Count by Days since Last Login
Sign In Success and Failures and Locations
Groups and Members details
User Issues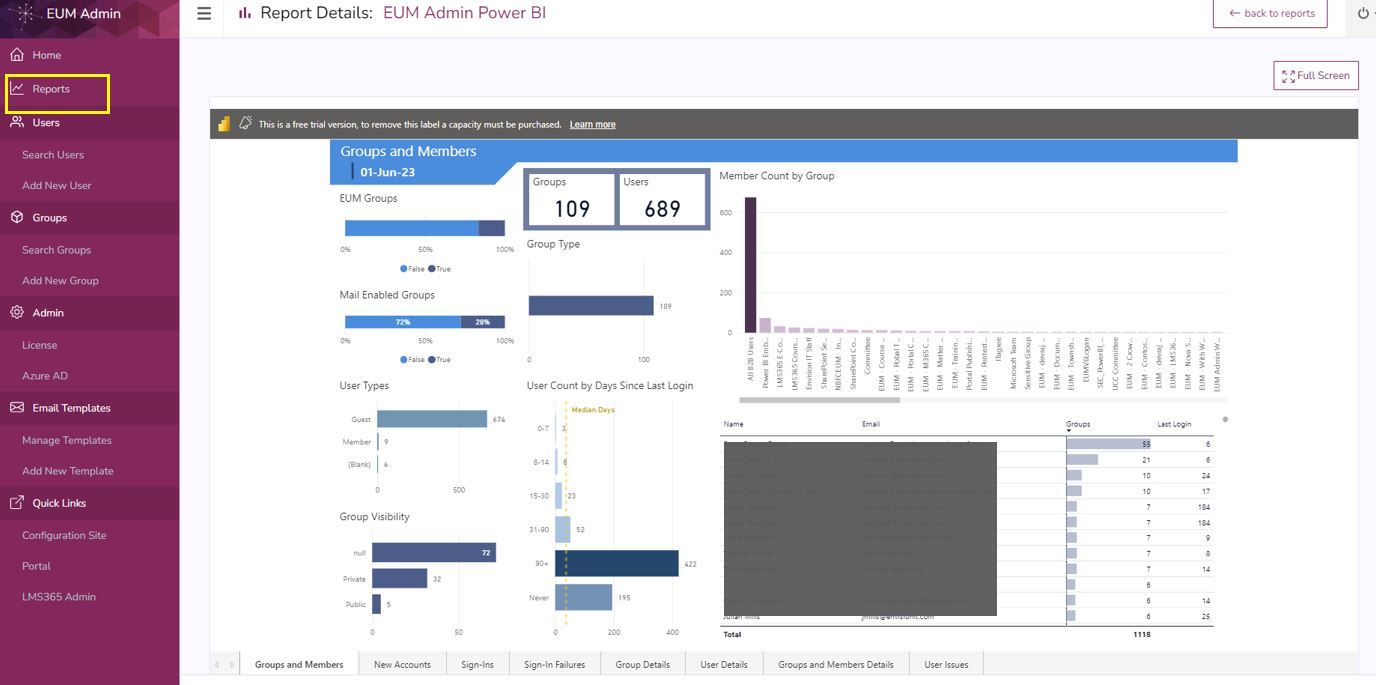 If you would want to view the EUM Reports, we will have to work with you to setup Power BI Reporting system in EUM for you. There are few options you can select from, and we can discuss the reports and its requirements further before we help you to set it up. You can reach us by sending an email to inquiry@extranetusermanager.com.
Power BI Embedded
Components needed to be setup:
Storage Account - Microsoft Pricing
Data Harvester - deployed as part of EUM, need additional setup for Power BI
Power BI User Account (minimum a Pro License) - Microsoft Pricing
Service Account in your Azure AD with Power BI License (minimum a Pro License) - Microsoft Pricing

We recommend to use the same Service Account used to connect EUM to EUM Config SharePoint site

Power BI Embedded Service - Microsoft Pricing
Power BI Desktop - Download from Microsoft Store
Optional - Minimum Azure AD Premium P1 License for sign in logs - Microsoft Pricing
Pros:
Report displayed in EUM Admin, so everyone having adequate access to EUM Admin can see the reports
Cons:
Power BI Embedded Microsoft Subscription needed
Depending upon the uptime of the reports, you may have to pay more subscription fees
Depending upon the number of users accessing it at a time, you may have to pay more subscription fees
A Storage Account needed in your Microsoft Subscription, hence a Microsoft Subscription needed
Power BI Online
Components needed to be setup:
Storage Account - Microsoft Pricing
Data Harvester - deployed as part of EUM, need additional setup for Power BI
Power BI User Account (minimum a Pro License) - Microsoft Pricing
Power BI Desktop - Download from Microsoft Store
Optional - Minimum Azure AD Premium P1 License for sign in logs - Microsoft Pricing
Pros:
No need to pay for Power BI Embedded Service
Anyone having Power BI License and access to the Power BI Workspace would be able to view the reports
Cons:
Each user wanting to see the report would need a Power BI Workspace License
A Storage Account needed in your Microsoft Subscription, hence a Microsoft Subscription needed
Cannot not view report in EUM Admin
Power BI Desktop
Components needed to be setup:
Storage Account - Microsoft Pricing
Data Harvester - deployed as part of EUM, need additional setup for Power BI
Power BI Desktop - Download from Microsoft Store
Optional - Minimum Azure AD Premium P1 License for sign in logs - Microsoft Pricing
Pros:
You pay nothing for your Power BI Desktop
Cons:
Only users that have a copy of the report on their local machine and have Power BI Desktop installed would be able to view the report
A Storage Account needed in your Microsoft Subscription, hence a Microsoft Subscription needed
Cannot not view report in EUM Admin